There is nothing more foolproof than donning all black when you need to look chic in a hurry. Here are three examples of people who get the look exactly right for very different reasons. Follow the leads from Ashley Olsen, Miranda Kerr, and Charlize Theron, and you'll have three surefire, super-gorgeous, all-black looks to add to your repertoire.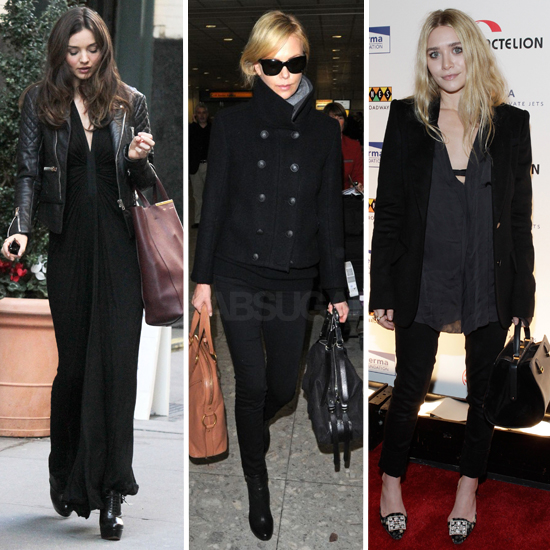 Miranda's Edgy Romantic Look: Everyone needs a black jersey maxi dress in their closet, it's ultra dependable and can be styled so many different ways. Miranda dresses it up with serious platform boots and adds an edge via her quilted leather moto jacket. You can wear this to dinner, to a party, or on a hot date.
Charlize's Crisp and Classic Look: Charlize is merely leaving the airport, but the perfectly tailored peacoat paired with black denim, black high-heeled boots, and oversized sunglasses looks ultra crisp and ideal for any occasion. She keeps the silhouette tailored to her body and simple.
Keep reading for Ashley's look as well as our shopping picks!